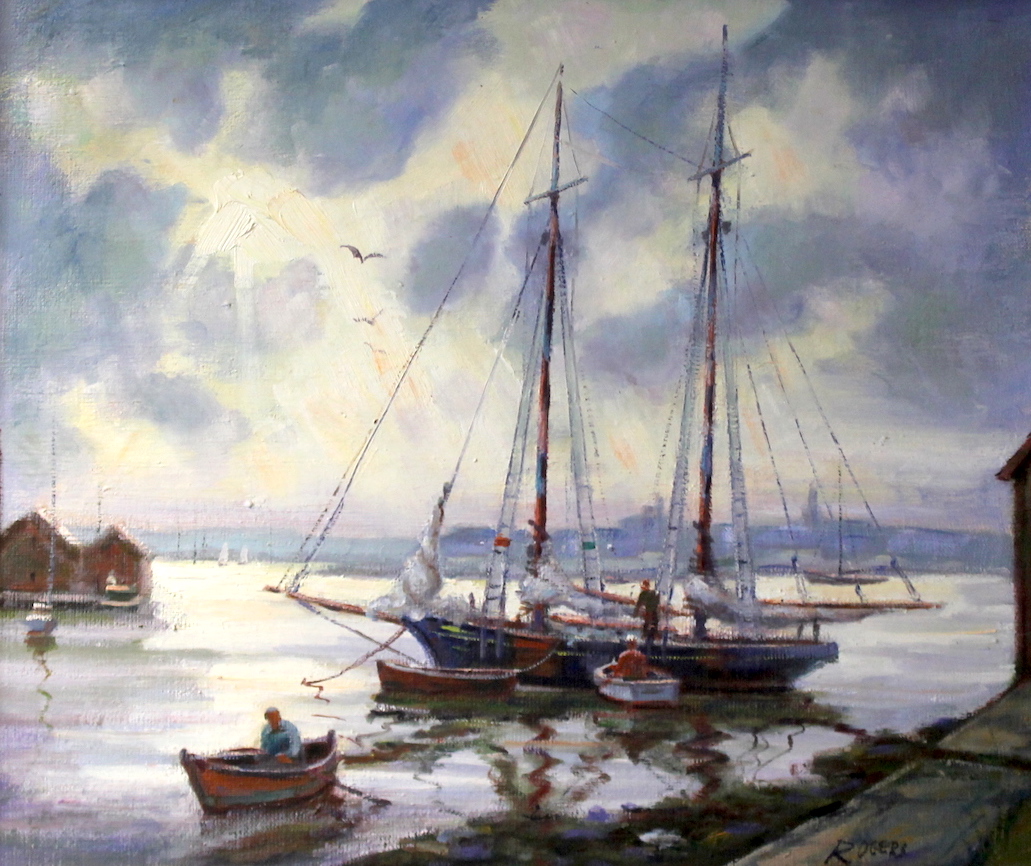 Biography
(American, 1914-2002)
Rogers grew up in Hyattsville, Maryland where he lived until he enlisted in the Army during WWII. In 1942, he was stationed in the Pacific arena where he served under General Douglas McArthur. During his service, he sent letters home containing pencil sketches of birds and other tropical life of the region. He served in the Army until the war's end in 1945.
After the war, the Rogers family moved to Cincinnati. He attended Miami University, where he began studying art. He continued his studies with William Gebhardt at The Art Academy of Cincinnati, while exhibiting his work as a member of the Cincinnati Art Club. Joe was also influenced by Jack Meanwell and Paul Chidlaw, who were also involved in the Cincinnati Art Club and the Art Academy.
Always looking for a way to expand his horizons, Rogers jumped at the opportunity to work with Al Lewis, Art Director of the Uncle Al television show for children. It was one of the few fun jobs that he had. He especially looked forward to working with the posters and scenery, and being around children who were excited by the creative aspects of the show.
His rewarding experience with the Uncle Al Show inspired him to continue working with children to help them develop their own creative skills and an appreciation of art. He got a job as a substitute teacher in the Cincinnati Public School system. Not only was it a gratifying experience, it also provided the flexibility he needed to pursue his own art-making.
His favorite medium was oil painting. Many of the works that he created of Cincinnati showed reflections from the Ohio River, the Delta Queen riverboat, and the Mt. Adams neighborhood. Other scenes he favored included waterways, sailboats, and fishing boats in Rockport, Cape Cod, and Cape Ann. In the North East he frequently painted local neighborhood scenes including churches, storefronts, and beautiful Fall foliage. As he loved to travel and paint, he found a second home in Rockport, Mass. as a member of the Rockport Art Association from 1966 – 1981. He frequently traveled between his home in Cincinnati and the Cape, and continuously showed his work in East Coast galleries.
In 1985, Rogers suffered from a stroke and moved out to West Lake Village, CA to be closer to his sister. His change in location influenced his paintings as well. Vivid colors and sunny days soon replaced rainy Cincinnati scenes close to the river and waves crashing over the rocks at the Cape.